Elton and the band, I think the guitarist, Davey Johnstone has the same hairstyle he had when I saw them in 1976
Click pictures to enlarge
As many of you know I am a
concert buff
. I love to go to concerts. Saturday night my daughters and I went to see
Elton John
. He was actually playing in Worcester at the DCU Center. I might have passed it up had it been in Boston, [I have seen him twice before] but the DCU Center is 15 minutes away.
We went out to dinner at
Haiku
first. It is our favorite sushi restaurant. We drove downtown and after finally finding a parking place on the 6th floor of the garage we headed in and found our seats. They were actually pretty good. Elton would be facing us as he sang and played the piano.
He started right on time and opened with
Love Lies Bleeding/Funeral for a Friend
and proceeded to play non stop for three hours. Elton, a seasoned performer, wowed the audience with almost 30 of his top hits.
My favorites included,
Madman Across the Water
,
Bennie and the Jets
and
The Bitch is Back
(this link is from 1974!) For an encore he sang my favorite,
Your Song
. You name it he sang it.
The highlight of the night was when he sang songs from his new album
The Union
. It's a collaborative album with
Leon Russell
. Admittedly I didn't know who Leon Russell was but as I read about him, I appreciated his influence on music. Leon was and is an idol of Elton's and he could say enough about how he influenced his own career. He went on to say he has been performing his songs at his concerts with out him but this night we had a treat and Leon Russell was there to join him on stage. Out walked a man with a cane and long flowing white hair. He and Elton played eight songs from the new cd. It was fabulous. My favorites were
Monkey Suit
and
If it wasn't for Bad
.
As we walked back to the car I asked my daughters if they heard all the songs they wanted to hear and my oldest says, "Yeah the three I knew"..... yeah I felt old. It was an amazing night and I recommend the cd to everyone.
And as Elton pointed out, how many times do you see three
Rock and Roll Hall of Fame
members on one stage at the same time. Elton, Leon and
Rose Stone
. Rose was one of the back up singers and an inductee as part of
Sly and the Family Stone
.
I know I posted a lot of links but do yourself a favor and listen to some, especially those with Leon Russell.
Leon Russell
Our view of the stage. :-)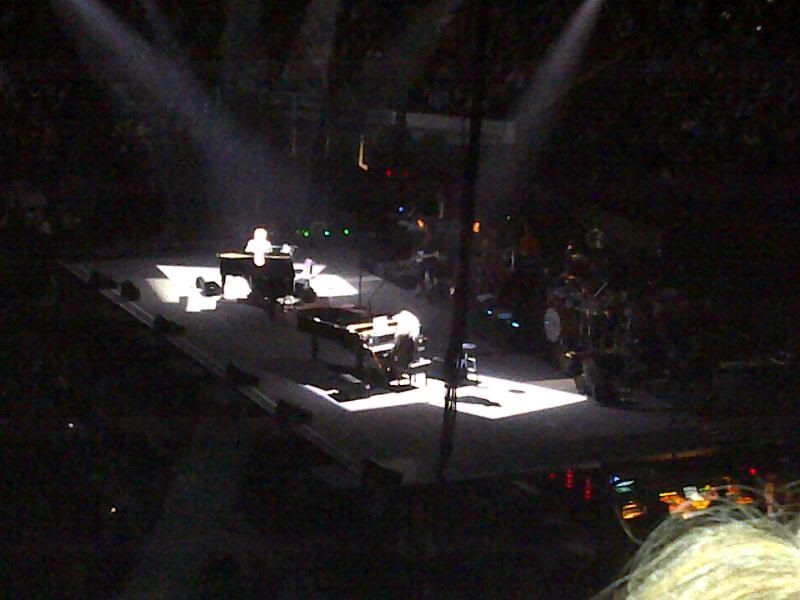 Elton and Leon together