After our wonderful rest we got dressed for a night out. A drink in the room as we got ready and we headed to Quincy Marketplace. We had dinner reservations at Durgin Park and were lead right to our table.
Rush had steak tips and I had shepards pie. A couple of requisite martinis, appelitni for Rush and dinner was a success.
We wandered the marketplace after dinner and browsed through one of my favorite stores, Newbury Comics and bought a few goodies before looking for a night spot. Cheers seemed the place to be so we perched ourselves at the end of the bar and spent the night. (not literally of course). This isn't the original Cheers bar but an off shoot of the one the the tv show was based on. The original Cheers bar is actually called The Bull and Finch and is in a different location. No problem for us, as this one had a guitar player and a one armed singer. They were entertaining and played covers for all to sing along with.
As it was Friday night the place was lively and we talked to a lot of interesting people, men and woman. One man in particular was quite interesting and persistant...but sadly for him he went home empty handed, but Rush and I had plenty of laughs at his expense.
Can't remember his name for the life of me. We closed the place down and since we had no desire to navigate the T that late or buzzed we opted for a taxi. Turns out the T was closed for the night anyway. We got back safely to the hotel and after drinking copious amounts of water we slept...and slept...well into the next morning. No bother, the shops don't open until 10 am.
We ordered breakfast in the room, for a whopping..not going tell how much, but it hit the spot and after filling up on eggs, coffee and soda we headed out for the day. Getting off at the Park Street station near the Boston Common we walked towards Fanueuil Hall stopping at some historical sites along the way.
The Grannery Graveyard is very interesting as it is the burial ground of Ben Franklin,
Samuel Adams, John Hancock and Mother Goose to name a few. We next stopped at Kings Church and went inside for a look around. It is/was a church for the more well to do with family pews and a special seat for the govenor. There are also unknown soldiers buried under the entry way. We walked around the back of the church and found a nice garden. All these sites and more can be found easily by following the Freedom Trail
that leads one through interesting and important historical sites of Boston.. and many are essential to the founding of America.
Once at Faneuil Hall we got some lunch. The inside hallway has dozens of small food stands that make it hard to choose what to have. I decided on a Philly cheese steak and Rush had a corn dog and cheese fries. We browsed more shops, had our picture taken with Ben Franklin and eventually headed "home".
On the way back to the hotel we stopped at the Trinity Church for Rush. It is a beautiful church and I still get a thrill out of the new contrasted with the old. I think Boston has learned to blend them well.
We got ice cream and walked the rest of the way back to the hotel. My knee you ask? I did fine, I refused to let it slow me down. Sure we rested from time to time but what was the hurry. That was the best part of the weekend, no time table just what we wanted to do.
As we walked, we passed some interesting restaurants and decided we would hang out in one of them that evening after dinner, which we had in our room. (we stopped at a Stop and Shop to pick up some food. I love the city but how one grocery shops escapes me. I like to fill my car with $300 in food and drive it home. How do you do that in the city?)
We ate, had a few drinks, checked our favorite websites and as we sat around we got lazy and both of us fell asleep and missed a night out.. I know sad isn't it, but as I said it was nice to relax, chat and have no responsibilities.
Up earlier the next day, we headed to Newbury Street
(Boston's Rodeo Drive) and did mostly window shopping. I had to stop at Newbury Comics as it is the original one, I bought Russell Brand's dvd and some games for the daughters. Some interesting shops for a proper shopping area (check out the sign for the store under Newbury Comics) Many of stores weren't open yet so we walked to the Public Gardens to find the "Make way for Ducklings"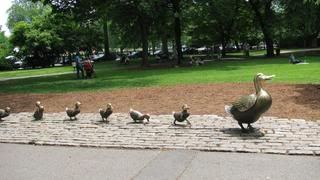 statue made famous in the book of the same name by Robert McCloskey Not sure which came first, the book or the statue but they are "famous" in Boston, with someone always trying to steal one of the ducklings.
After finding them we sat and watched the Boston Swan boats
and people, both very interesting. It was a beautiful day and we headed back to Newbury Street for more window shopping and lunch. We found a small restaurant and decided to sit inside in the air conditioning which turned out to be a good idea since it started to rain. All the outside patrons rushed in and we relaxed waiting for the rain to stop. It didn't as quickly as we wanted and we ventured out in it anyway, hiding under awnings when necessary. It was soon time to head back to the hotel and say our goodbyes and get to the airport. We also found out that the hotel had a nice little hidden lounge and had a couple martinis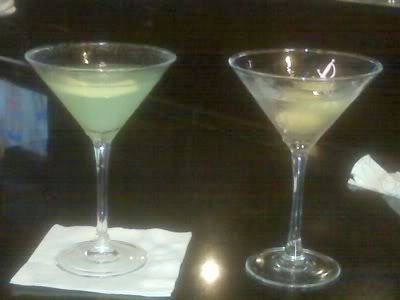 before we called the cab for the airport.
My family picked me up at the airport, the kids got to meet Rush again and the husband got to meet her as well. It was then goodbye for real and sadly we said our farewells and went back to RL (real life). Love you Rush and had a great time... can't wait to come out to Indianapolis for a view of your life.
May in Boston Part 1,
aka Rush and Martini do Boston